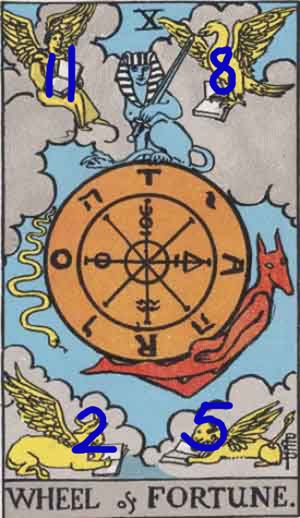 CARD X Zodiacal Code is

11 2 5 8
In the image on the right, do you see the

4E

?
So how does the above Tarot CARD X help us open many doors (3 perhaps, or can we get past the fourth in the north?) with these next two keys?
YES
The solfrege frequency 528 hertz is part of this design too, that will be revealed by its connection to Marko Rodin VBM and Nassim Haramein's work too.
And Ed Witten.
At the end of the day, I try to place everybody on the same page.
It resembles the Sator Square.
Here is a peek of what I mean.
http://kachina2012.wordpress.com/2010/0 ... rsymmetry/
But do not get lost there yet, in how I merged the 2000 year old Sator Square to modern string theory, called 'M' theory.
Continue reading below.
I need to provide some basics regarding xyz and w first.
However you need to be taught how to walk and talk like an Egyptian again first and foremost, left brain linear thinking alone will not get you through the zig zag course.
i.e.
I take the letter E which was attributed to the Temple of Apollo @ Delphi, and I show you how I can take an ancient 'E' theory and with one 90 degree rotation representing 2000+ years, a passage of tiME, the E becomes an m or M.
Thus if we can merge E theory to M theory
, does it suggest that we are on a treadmill not realizing we are reinventing the WhEEL, with the passage of zodiacal tiME?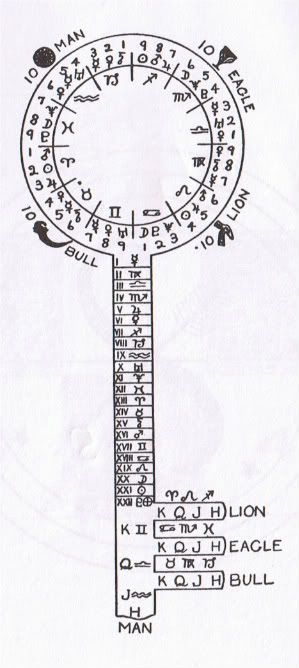 Can we find those 4 Evangelists i.e.
11 2 5 8
on the KEYS?
YES
Note that MAN

11

is the stem.

LION

5


EAGLE

8


BULL

2
Note they are the thr

3E

t

E3

th of the KEY.
also note and this gets rather interesting....
that on the stem of that same KEY are the zodiac signs for the following.
3 .... Gemini
7 .... Libra
11 .. Aquarius

7 3 11
In those numbers, I see a formula that has confused the best of physicists.
All have been confounded by the formula for what is called the fine
1/137
The coincidences
can only be explained as out of this world?
Wolfgang Ernst Pauli (April 25, 1900 – December 15, 1958) was an Austrian theoretical physicist and one of the pioneers of quantum physics. In 1945, after being nominated by Albert Einstein, he received the Nobel Prize in Physics for his "decisive contribution through his discovery of a new law of Nature, the exclusion principle or Pauli principle," involving spin theory, underpinning the structure of matter and the whole of chemistry.

Pauli introduced the 2 × 2 Pauli matrices as a basis of spin operators, thus solving the nonrelativistic theory of spin. This work is sometimes said to have influenced Paul Dirac in his creation of the Dirac equation for the relativistic electron, though Dirac stated that he invented these same matrices himself independently at the time, without Pauli's influence. Dirac invented similar but larger (4x4) spin matrices for use in his relativistic treatment of fermionic spin.




In 1958, Pauli was awarded the Max Planck medal. In that same year, he fell ill with pancreatic cancer. When his last assistant, Charles Enz, visited him at the Rotkreuz hospital in Zürich, Pauli asked him: "Did you see the room number?" It was number

137

. Throughout his life, Pauli had been preoccupied with the question of why the fine structure constant, a dimensionless fundamental constant, has a value nearly equal to

1/137





Pauli died in that room on 15 December 1958.




extra reading:

http://www.disclose.tv/forum/post350307.html#p350307
WOW that is rather amazing too.
First Rm 137 and the day of his death December 15 OR 1215.
WOW or 1215 is also known as the following.
WOW now we intersect with Marko Rodin's Vortex Based Math.
1215 = ABAH
1251 = ABHA

but this is more profound

2151 = BAHA
Thus the fact Wolfgang Pauli also had a strange effect named after him, "the Pauli Effect", along with him dying in room 137, on the day of ABAH/BAHA suggests he was part god.

Do you see the numb3rs

1 2 5 1 1 2 5 1

in the above text/weave/fret pattern?
then you can move on:
http://kachina2012.wordpress.com/2010/0 ... t-pattern/
Of course this is only the beginning.
want to know more?
I have gone so deep down the hole...I have a real good idea what is to be found.
I will enter the hole, emerge, and find
that on the other side I am now on top of a mountain.
NOW would bE a good tiME to plant a fEW sEEds.
with trEE letters
the

N

, the

M

and the

E
Those are the KEYs you will need and the treasure map CARD X.
(I am your guide ... my code name is XX)
Are you ready to enter the world of the 3 Replicators?
What are the 3 Replicators?
1/ genes
2/ memes
3/ temes
First Richard Dawkins let the memory of pandora escape once again by making some profound conclusions through observing NATURE.
In his book the Selfish Gene, he resurrected a term called memes to show how humans evolved culturally through imitation, the passing on of ideas, represented by the term 'memes.
Then another scientist/researcher open minded individual came along, Susan Blackmore, and she added yet another layer to the genes and memes called temes.
And it is this basic UNIVERSAL MODEL of the primal egg or the 0 plus 3 levels of replicators that we can default to time and again.
What can we learn from this 4 AGES/ABC transcription MODEL by using those KEYs?
This link here illustrates just that...
Are you ready to enter the black hole that is YOU?
http://breakfornews.com/forum/viewtopic.php?t=6004
rEMEMbEr thE sEEds

N

, the

M

and the

E
rEMEMbEr that day in sEtEMbEr
N
a
M
ast
E
XX
p.s.
And I would be lying to all of you if I said the
Hands of God
have nothing to do with the bluehole you are about to enter.
12,000 years of Good Luck is with you.
Slavic

HANDS of GOD