Cool STEM Cells are connected to the Life Sequence identified as

1-5-9-13

.



But where is the connection to the Cosmic Code as I claimed

?

What if we can connect the Stem Cell 1-5-9-13 sequence to

FIRE

, along with the signs

Aries, Leo, and Sagittarius

.
All three zodiacal signs are found on

one of the four arms

of the Greek Zodiacal Cross.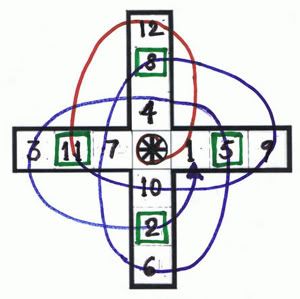 Note

that the Stem Cell Sequence

1-5-9

(FIRE) is opposite the Fine Structure constant sequence

1/1-3-7

(AIR)
The ELements FIRE and AIR are both masculine (+ / yang) and comprise the x axis in this modEL.

But if you were to

rotate

the above Greek cross modEL 90 degrees and then

reflect

the image so FIRE/LEO and AIR/MAN are the male

north/south y-axis

and EARTH/TAURUS along with WATER/SCORPIO comprise the horizontal female

west/east x-axis

, you would have an image similar to this one
The Beginning of Masonry


Coincidence or part of the underlying design?

In the 1-5-9-13 sequence, what zodiac sign is associated with number

13

?
Did you know number 13,

Ophiuchus

is also located close to the galactic center?

namaste